Buy Moyo Go Studio: $27,- for immediate download
All install problems are caused by Windows (Vista) issues or 3rd-party software.
Install issues can be resolved by following the advice.
Read the troubleshooting part of the online manual.
Works fine under XP and Windows 7, also under Mono for Linux.
Install troubleshooting help here: http://lifein19x19.com/forum/viewtopic.php?f=9&t=537
The download includes addon game packs that have to be run after setup.
Unzip the zip file (1.3 GB) and run Setup.exe.
The amateur games need to be separately installed.

You must turn off Windows Defender and add a DEP exception for the Setup.
Run the Setup as Administrator.
Use the latest Service pack for your computer.

The Help file is unfinished - experiment with the other features (publish to PDF).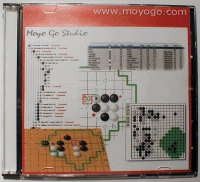 (The software used to come on DVD)